31 maart 2021
Future-Fit Certified Professional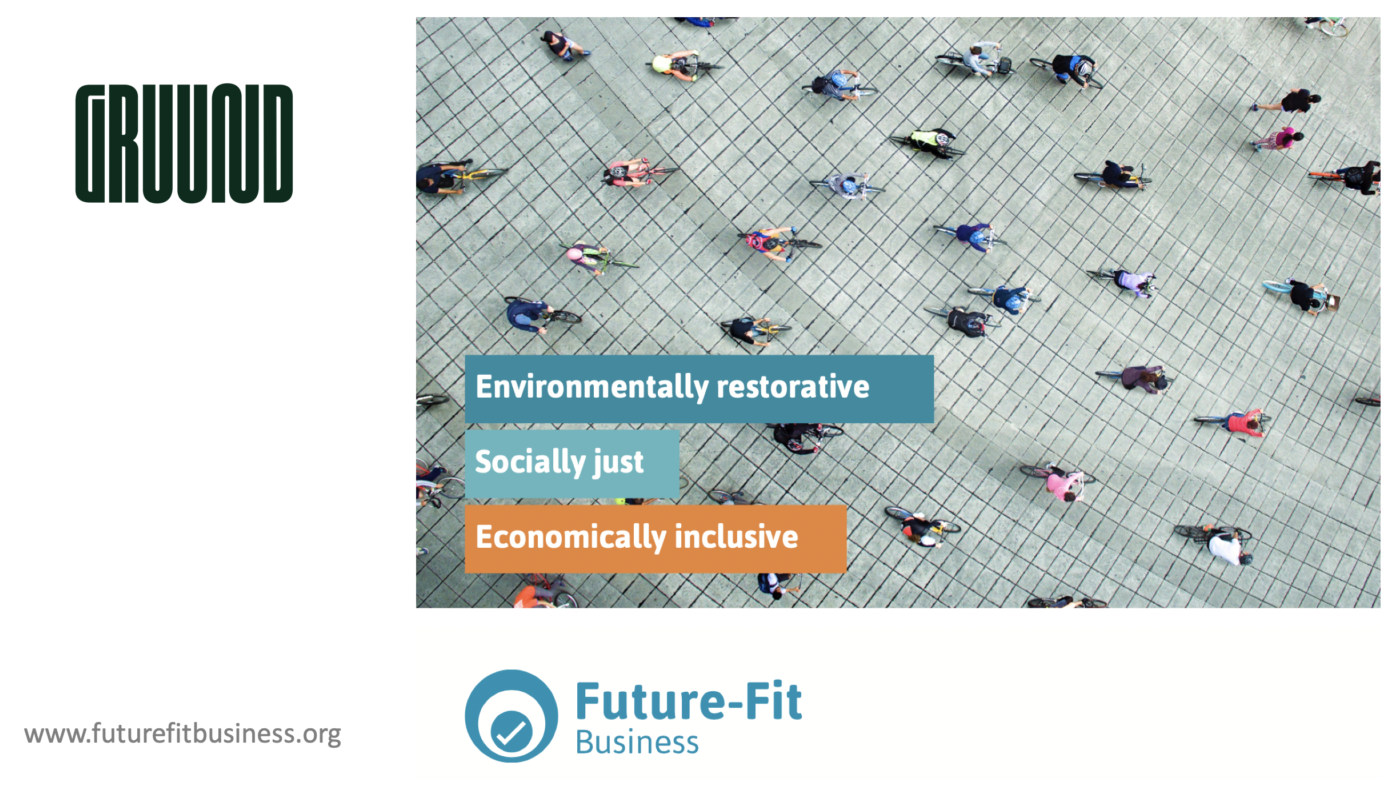 GRUUND Future Fit
Future-Fit! That's what our companies need to become. That's what our society needs to become.
Wouter Demuynck, Change Driver at GRUUND, is happy to announce that he has been honoured as Future-Fit Certified Professional.

What is future-fitness? A Future-Fit® Society will protect the possibility that humans and other life
can flourish on Earth forever. Future-fit Businesses are environmental restorative, socially just and economically inclusive.
The Future-Fit Business Benchmark is an open source management tool which helps organizations to set the right ambitions, measure progress towards future-fitness and to communicate with and inspirestakeholders (investors, clients, employees, …).
The Future-Fit Business Benchmark is closely aligned with the Sustainable Development Goals.
Many management tools and benchmarks either focus on only a part of the game (e.g. climate action) or allow negative trade-offs (e.g. undermining social aspects while pursuing environmental issues). Future-Fit offers a holistic vision and adds professionalism and credibility.

Wouter Demuynck, Change Driver at GRUUND, is Future-Fit Certified Professional and can help organizations to use the benchmark and provide (optional) accreditation of the progress towards Future-Fitness. Never hesitate to contact him and ask for a call!
GRUUND and Route2030 join forces to provide advisory services using the Future-Fit Business Benchmark. They worked out a number of service packages, like a Future-Fit Encounter, Future-Fit Health Check, Deep Dive Workshops, Repowering Sessions, Future-Fit Academy, Progress Certification and an unforgettable Future-Fit Bootcamp! Don't hesitate to ask for more information.
#future-fit #gruund #drivingchangethroughsustainability
Open Source: www.futurefitbusiness.org
Related articles